I love sharing food of all kinds. My primary expressions of culinary creativity over the last several months have been cupcakes. I love to cook and I love the joy that a cupcake brings to someone! A few of my recent cupcake creations:
Deep Dark Chocolate with Milk Chocolate Frosting
Harvest Pumpkin Cupcakes with Cream Cheese and Orange Frosting (for UT game)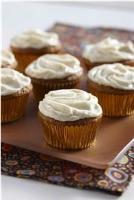 And the perennial favorite, the vanilla cupcake with various colors of frosting for birthdays at the office. What's your favorite cupcake?